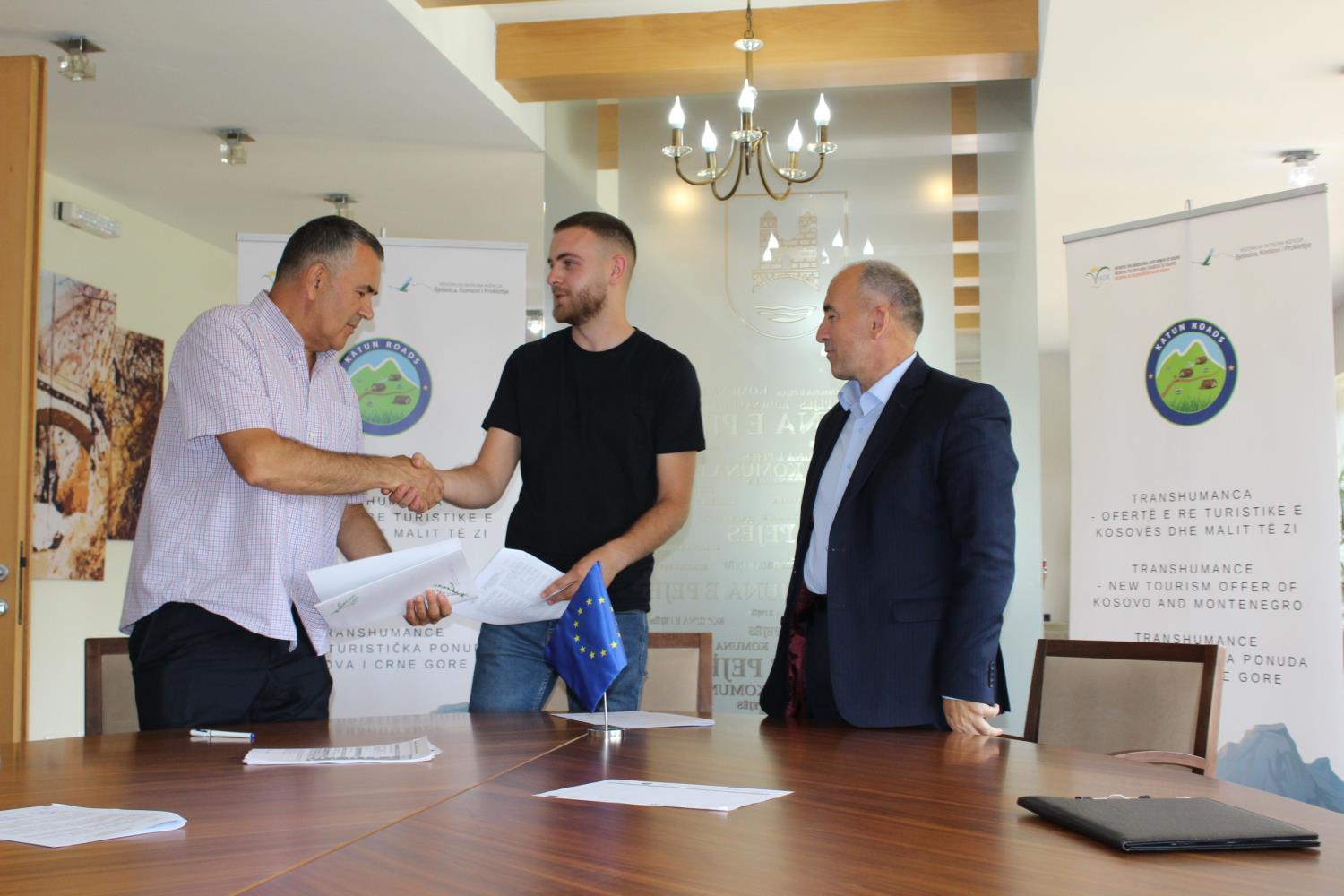 15 beneficiaries from Peja are supported with solar systems
Peja
Kosovar families migrate with their cattle to mountainous areas, (or in Bjeshkë as known locally), since time immemorial, in the spring season to stay until the beginning of the autumn season. This tradition has been practiced so as to fully utilize the natural resources while conserving biodiversity and local ecology. While the cattle feed on the best pastures of the mountainous areas, their movement increases fertility of the lands they traverse as their excreta fertilizes the area. Simultaneously, the fresh air and awe-inspiring mountains provide a desperately needed break from the pollution of the urban area.  
This tradition is still practiced in Kosovo, among others in the Podgur region and Accursed Mountains. This practice is internationally known as Transhumance, which derives from Spanish word (transhumancia) ultimately derived from Latin trans (across) and humus (the ground).  
While transhumance has been practiced widely throughout the world, this practice is almost nonexistent in the developed countries. The fact that is still being practiced in Kosovo, increases the attractiveness of the mountains and tourists are more interested in visiting Kosovo and observe farmers practice this authentic tradition and the cattle in their natural habitat.
To contribute to the development of sustainable mountain tourism, IADK is currently implementing the project "Transhumance – a new tourist offer of Kosovo and Montenegro", which is funded by the European Union through the IPA cross-border cooperation program between Montenegro and Kosovo. The project scope encompasses the region of Peja and Istog, mainly the breathtaking mountains of these two regions.

In the framework of the project activities, today, on 22.07.2021, 15 katun owners from the municipality of Peja have signed contracts for the support with solar systems. Beneficiaries will be supported by solar systems, of which 6 are high capacity and 9 low capacity.

During the signing of contracts by the Executive Director of IADK Mr. Zenel Bunjaku and the Mayor of Peja Mr. Gazmend Muhaxheri, they have motivated the beneficiaries to be continuously committed to preserving the tradition and continuing the provision of tourist services (accommodation, preparation and preservation of traditional foods) and meeting the demands of local as well as foreign tourists, since it is a promising sector and is continuing to grow.
IADK Director Zenel Bunjaku during the ceremony, added that the Municipality of Peja is a leader in terms of development and promotion of tourism which as a field has many prospects in the future, also thanked all participants for their tireless work during this time.
IADK invites everyone to visit these traditional katuns in the mountains of the Municipality of Peja so as to spend a pleasant time and detach from the stressful urban life.